A sad case of blind injustice
Joint enterprise, Issue 1370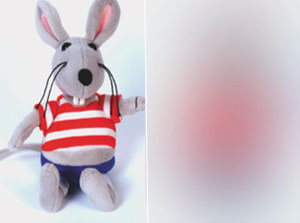 WHAT JORDAN COULD SEE: Normal vision, left: and, according to expert evidence from Moorfield's Eye Hospital, Jordan's 1/60 vision
JIMMY MCGOVERN's latest TV drama, Common, shows how short-cut policing can result in large gangs of youths being charged together for a crime under the law of "joint enterprise". This enables one person to be found guilty over another person's action, provided they are believed to have acted together for a common purpose and the outcome of that purpose – a violent attack, say – is judged reasonably foreseeable.
One of the real life events which inspired McGovern's drama concerns the horrific murder of Garry Newlove, who died after an altercation with youths outside his house in Warrington. The pathology report said death was most likely caused by a single forceful kick to the neck. A pathologist told the court that "but for neck injury… from a single forceful kick… Garry Newlove would have walked home".
Degenerative eye disease
Five youths were charged under the law of joint enterprise, meaning the police did not need to establish who dealt the fatal blow. Three were found guilty. One of the convicted "murderers", Jordan Cunliffe, aged 15 at the time, had a degenerative eye disease called keratoconus which was so bad that a consultant ophthalmic surgeon told the court he could have been registered blind.
The judge told the jury they could find Jordan guilty if he was at the scene and knew that Mr Newlove might suffer serious injury. Jordan told the court that on the night of the killing he had been drinking and was behind the rest of the group, and wearing no shoes.
After two weeks' deliberation, it is impossible to know what led the jury to convict blind Jordan for Mr Newlove's murder, along with two others, Stephen Sorton and Adam Swellings, against whom there was stronger evidence, including DNA. There was no DNA evidence on Jordan's clothes to link him to the murder, and his brother confirmed to the court that Jordan had been drunk and behind the group, so knew nothing about what happened because he couldn't see.
Corneal transplant
Sorton, then 19, admitted in court to punching Mr Newlove once; he told his mother at the police station that he had kicked Mr Newlove. At trial, Sorton said that blind Jordan had kicked Mr Newlove.
Sorton and Swelling were sentenced to 18 and 19 years on the basis of eye witness evidence. Jordan was eventually given a 12-year sentence after being found guilty of joint enterprise murder.
Jordan's vision deteriorated further in prison and he has since had a corneal transplant. New expert evidence from Moorfields Eye Hospital shows in picture form what Jordan could see at the time of the attack: his keratoconus meant he had vision of just 1/60.
Jordan's mother, Jan Cunliffe, is campaigning against the law of joint enterprise which allows police to round up a gang of youths and charge them all together. After being refused leave to appeal, Jordan is now being represented by the legal team which took up the Hillsborough campaign.